I decided to write an account of the race, as I can hardly believe I enrolled, trained, and finished an event that is most certainly on a par with childbirth. The event consists of hundreds of teams of three and all three must make it across the finish line, together, our team was called Chix on Stix.  I was so exhausted after the race, I ate and came home and went to sleep. By day two I was just buzzing with excitement, a big grin spread across my face and I just had to write this down, before any moment was lost. I started writing at 11.15 pm on the 19.04.2018.
Patroille des Glaciers 18.04.2018 
Awake at 1.25am with a last minute check that our bags are complete. Off to Arolla for a 2.30 brekky, quick bit of bread and jam, nervous chat, keen to get on with it, well sort of. Headlamps on, click on the skis and walk up to the check in point to pick up our army issue radios, check we have our trackers on, proceed to the start line with only 3.39 seconds to go. Oh, where did the time go? It's 4.30 am. Countdown 5,4,3,2,1, cheers all round, yipee! We are off. Try not to stand on the multitude of skis around, 200 pairs of 1.5 m long feet all converging in the dark up a 12 metre wide, icy, steep track. Thinking, first timed checkpoint is 850 meters up and cut off time of 1.45 minutes. Better shuffle those feet a little quicker, oops some guy in lycra with extra skinny skis just fell over, avoid him. Stars are out, sky is brilliantly luminescent as it's just before dawn. Keep the heart rate in check, are we going too slow? There's a light in the distance, a split in the track ahead, we go left. right is the direction for the teams from Zermatt. Golly gosh, they've already been walking for 7 hours or so! Track gets steep again, the light in the distance is getting stronger, to the left is a line of head torches walking up and over the Col we are heading to. And around the corner is the first time check, 1.29.30. We stop, look at that as it clicks over to 1.30, ok we made it, walk across. Let's head on up, quick smile and nod, phase 1 done, check.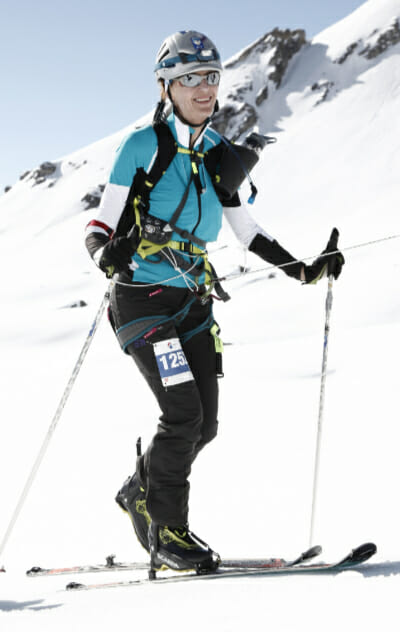 100 metres ahead is the start of the bootpack, we climb up, take off our backpacks as the night sky is starting to brighten. Ooh, fingers are really cold, the gals have to help me undo my pack. Skins off, stuff them in the pack then swing it back on and we take it in turn to load each other's skis onto our backs, 10 or so of those transfers ahead. Maev heads off striding like a trooper, no sign of gastro from 12 hours before. I follow, then Ellen. Maev is gaining speed, so head down, don't stop, don't look up. A scream to our left, a chunk of snow has hit a woman, she's ok so back to it. Made it to the top, Maev is brandishing her camera, smile, phase 2 done, check.
We are at the top and it's light and beautiful, no stress here as I love to ski and this is the skiing bit, yeah. Quick eat, drink, another photo, and we are off. I'm in the lead, we ski down the face, lots of people around. It's a beautiful, crisp morning and we are doing IT. Winding down the face, over a rise then down again, we arrive at Pas de Chat. Handsome army guys directing us down the mountain stay in teams of 3, close together please. We arrive at the next changeover point, skins on, phase 3 done, check.
Ellen's right foot sinks to above the knee.. Army guy to the rescue! Yanked her out, 6 skis on 6 feet and we are off on our reputedly 1 hour walk around Lac de Dix. Pig's arse, please! slippery, off camber, and longgggg. Skied for an eternity (two hours), finally climb up to La Barma, phase 4 done, check.
Sit down in the sun and eat, oooh it's getting hot. 9am, 4.5 hours after blast off. Ellen is looking in pain, feet are burning, we are all sore in the knees, my right leg feels 4 cm longer after being that way for 2 hours. Quickly devour my Cadel, a favourite sandwich recipe stolen after having dinner with the famous Aussie biker. Down a few painkillers, decide to put the tow line on, fill up water bottles as it's getting HOT. Going up to 3300m, sun burning our backs, 18 degrees. Nods to fellow walkers, Is that Rob wearing lycra? Optical illusion? Must be the heat. Wow it's getting warm, we have to climb indian file. Maev the marvel, strongest woman in the world, me all things good, considering just want to get through the next two checks, Ellen still smiling, but hot chick with burning feet on stix. Relentlessly the climb winds up. It's steep and keeps going, distant glimpses of the Rosa Blanche, a row of ants marching up its back. Hypnotic, really. Just slide that ski, you will see, you will arrive at me. HAHA. After 1.5 hours, we arrive, calls of bravo and allez from other walkers, phase 5 done, check.
We take packs off, hello there is Catie and Annabelle, big smiles looking so fresh, greetings all round. Finally get rid of some surplus water, i've been carrying so much, been sipping every 5-10 minutes and eating a bite every 30. Gotta keep fueled, stomach still good. Yeah, stomach, this is the day to be good. The girls ask, do we have any spare water? Oh yes indeedy, happy all round. Start the dreaded walk up the Rosa, 1379 steps it says, feels like 1380. Head down, don't look. Maev flies up, Ellen and I plod on relentless, don't look up, don't stop. Wow it's HOT, glad I've got all that darn water. Cheers from above, the Alp Horns, humming in the distance, Never Never land is going to materialize soon. 200 more steps, I can hear the cheers, they are getting closer or is it me? 7 hours into it phase 6 done, check, tears well up in my eyes, I see Duncan, Ellen's head appears, Maev smiles and then we were 3. Well, 4 with Duncan.
I drink my first coke since childhood, this stuff is the bomb, and some gummy bears, thanks Dunc's, woowa, let's move. Skis on and ski down Rosa bear left then ski some more, stop, skins on. Feeling Good, Maev thinks I should drink coke more often, I'm not sure but it's working for this. Short skin looking good, last climb is in sight, climb up, handsome army guy there says "skins off, you gotta ski down again then last skin up". Been jipped …. expletive here. Ok,  ski down is longer than expected, some moguls, some 1000 turns by 1000 skiers have been made before us. Skins on for last time, Col de la Chaux in sight, doesn't look that far, how're your feet, Ellen? Telling on her face, not a complaint in sight, coke still working, tow line on, off we go. A couple have set up a BBQ and are handing out plates of cold cuts, sausages and chocolate. Wow, the Swiss are cool, they love this event, it's part of their heritage. Keep walking, chat to a few people, hello Marcus, slide those skis, keep up with Maev. Discuss approach, there are a few options. Take option a, or was that c? Midline to high or small option, but last cruel bootpack. Can't be bothered putting skis on my back, the others do, I trudge on up, cokes' wearing off, thirsty, have some water. 30 metres up, ahh and there's Duncan again, or was that an illusion? Mental note: he's not sporting lycra. Ok, friendly army guys help us, "bravo" and we are up, click skis on and we have the 10 kilometres ski down to Verbier. Oops forgot La Chaux to Ruinettes, skate, trying to skate, where is the co-ordination? a muscular Germanic woman skates past, yells 'use the arms!'. Can't they're done in, in fact legs too, where's the coke? "Coke adds life" pops into my head, yep. Get to Ruinette, then ski down, ski down and down, on auto pilot. Click skis off, phase whatever finished, done, check.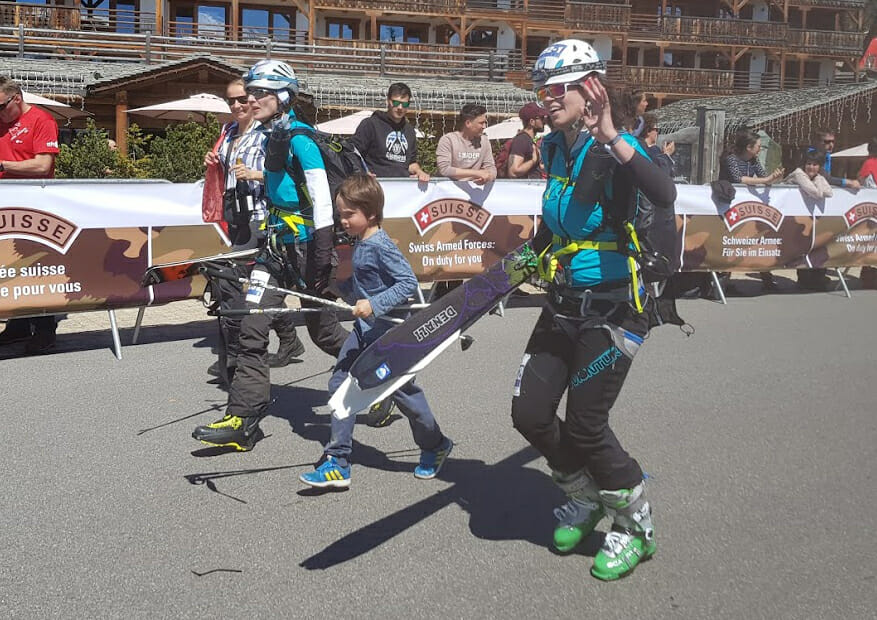 Run down the main street of Verbier with the finish line near the sports centre. We see Chris, Allen, the kids running to us, giving quick kisses, Maev says run, she leads the charge, we run, beyond thinking at this point. Faces appear, Ingy and Bullet and Tim, Mouska, Ingy starts running with us, champagne in hand, Talitha and Dexter, Lockie, Finn and Acacia, running with us. Jane and Simon, things are a blurrr, is it that bloody far from Medran to the sports centre? Yep, there's the finish line, we made it, group hug, so grateful to have these Chix on Stix in my life. Check. This was written at 12am, if there are typos, grammatical errors ect that is life, imperfect. Hey but I wanted to capture this perfect moment so I could re-read it over the years. It is 1.16 am just about the time I woke up 48 hours ago.
Thanks, this was ace buddies. xx