For five years over the Floridian winter, we would set sail for The Bahamas. A day cruise by yacht across to Bimini or less than an hour flight from Miami and Fort Lauderdale to Nassau.
Every element I loved, the weather warm and seas calm.
We started out sailing to Atlantis, the star attraction marina, waterpark and casino in Nassau that is the gateway to cruising the Bahamas.
Famous for its terrifying water-slide 'The Leap of Faith', a vertical drop that propels riders at tremendous speed through a clear tunnel submerged in a shark filled lagoon. I ended up doing this unwittingly and faced my two worst fears; heights and sharks.
On some starlit nights we would take the tender for a cruise, tie it up to a dock and partake in a "Bahama Mumma", a particularly delicious rum and coconut drink. Drinking in the heady perfumes of frangipanis and the echos of the locals laughing, we would be totally immersed in the moment. I used to try my luck in the Atlantis casino until my Captain husband, Max, banned me as I had a penchant for playing poker…very badly.
After a few hours of provisioning for the yacht, one of my duties as a chef, we would cruise down to my favourite cerulean waters. Picture the brightest, most vivid shades of azure and turquoise blues you can imagine, then quadruple it.
After a 4.5 hour cruise and we would arrive at the north end of the Exumas, where the Caribbean really takes hold, dropping anchor at Allan's Cay for a swim and a laze on a pristine beach. I once opened an eye after hearing some rustling to see a big old iguana parked on my towel. He was harmless and hopeful for a snack. On the way back to the yacht we would stop at Norman's cay to explore the beach and grab a quick drink at Mac Duff's beach shack before going to find an anchorage at Shroud Cay.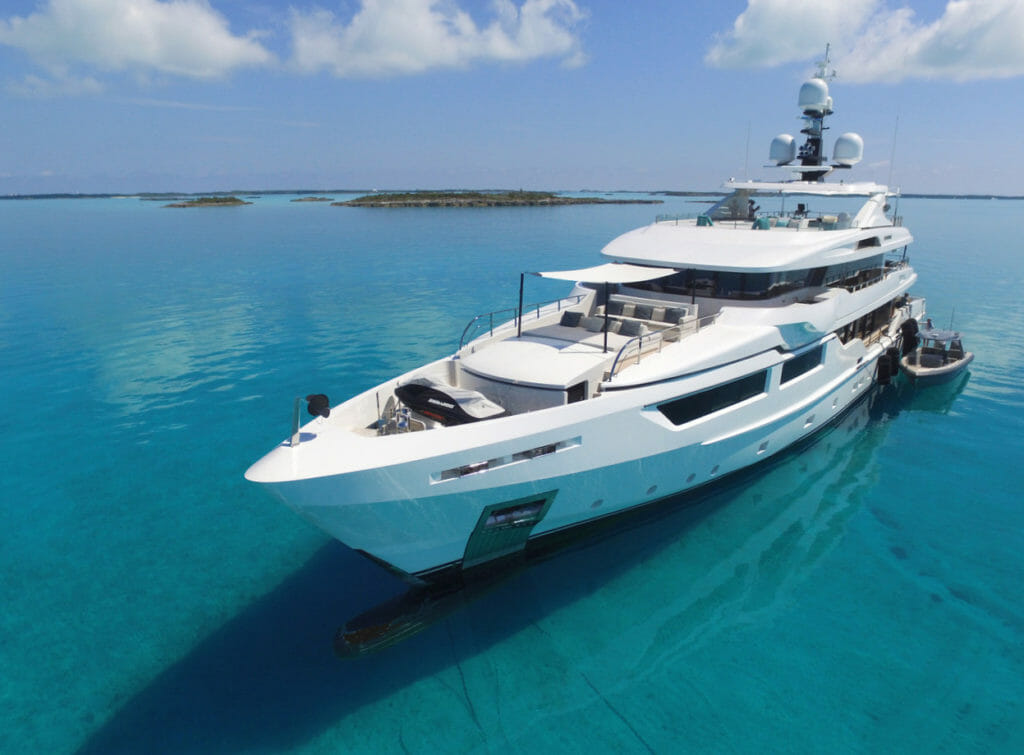 One of our favourite things to do was to go to Shroud Cay and cruise through the middle of the mangroves. At high tide they twist and turn for kilometres through the cay, eventually ending up at a beach with a natural waterslide. Here the most surreal turquoise waters line chalk white sandy beaches, offering one of the best photo ops in the Bahamas. So lovely!
Moving further south, we would swim and snorkel, dropping anchor just off Johnny Depp's Island, Little Hall's pond. When the tide is low a little sandband appears and the crew would set up beach chairs and umbrellas for the guests to enjoy the serenity of their own private, virgin, sand cay. After a near perfect day we would up anchor and set off to our favourite dock in the Bahamas, Staniel Cay.
Pulling up at Staniel Cay for the first time is the most astonishing experience.
Not just the iconic setting with picture-perfect wooden docks and a classic Bahamian bar, but the fact that grey nurse sharks glide lazily around the yacht's hull, stuffed to the brim after the fishermen have cleaned their catch. Lazy old rays slowly hover and stare with their flat faces. These pets would just lay on the bottom and rest while we got about our work. For the adventurous, it is an amazing opportunity to snorkel with placid sharks and rays.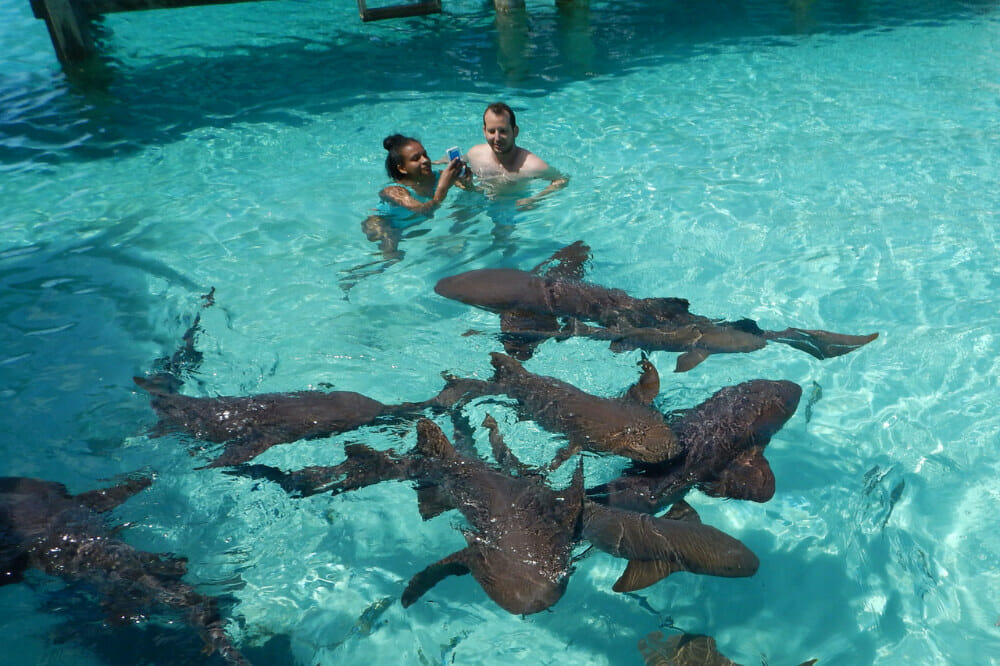 This is where I cut my teeth learning to drive the tender. Not any old tender mind you, a 34' beauty with 2 large outboards and a live fishing tank.
The current whipped through when the wind was on shore and maneuvering the tender while the big boat docked was my task. On these perfect warm evenings, I finally managed to dock and tie up the tender, nerves slightly rattled but boat unscathed.
Each day we would cruise to different destinations, like Thunderbolt Cave, brimming full of sea life, where the James Bond movie was shot. My love affair with the sea made me swim each and every morning, sharks notwithstanding, sometimes with very curious barracuda trailing me to shore.
We would take another day cruise to the aquarium for a snorkel, a completely protected calm blue sinkhole, brimming with coral fronds and a kaleidoscopic of fish. Unperturbed that we were were there, huge lobsters lumbered past on the sea-floor, surrounded by all sorts of stripy fish with velvety delicate fins. Extraordinary.
And then there were the lazy days when we would just wander around the islands and drop anchor in little bays. Popping ashore for a sundowner, meeting fellow sailors from America and the Uk, everyone chilling out under the palm trees sipping a cocktail.
Sitting up the bow watching all the iridescent fish, then, oh! There's a coconut adrift. It floats closer and, head now the size of a basketball, it stares up and blinks. Extending his neck, Mr Sticky Beak turtle checks us out, realizes we aren't that interesting and glides off.
These were our serene, gentle days in The Bahamas, full of wonder and beauty, making me want to shout out "incredible".
( Tip if chartering in the Bahamas: a yacht with a shallow draft will let you go to far more places.)